Publications
Informal Settlements Leaflet
Abstract:
Year published: December 2007
Leaflet on the Transport and Spatial Planning Conference in Kosovo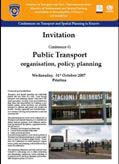 Abstract:
Year published: October 2007
MuSPP banner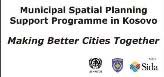 Abstract: The Municipal Spatial Planning Support Programme (MuSPP) banner.
Year published: May 2007
Leaflet on informal settlement field-workshop in Gjakova/Djakovica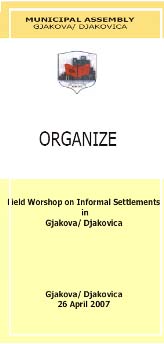 Abstract: Download the leaflet to get more information on informal settlements in Gjakova/Djakovica
Year published: April 2007
Visioning leaflet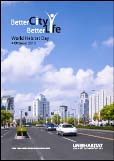 Abstract: 4 pages of MuSPP leaflet "Visioning of Your City" aims at promoting the concept of Visioning as a crucial element in local inclusive spatial planning process, applicable to all municipalities in Kosovo. The leaflet is used as a training material during the visioning workshops.
Year published: February 2007